Gallery
Gallery: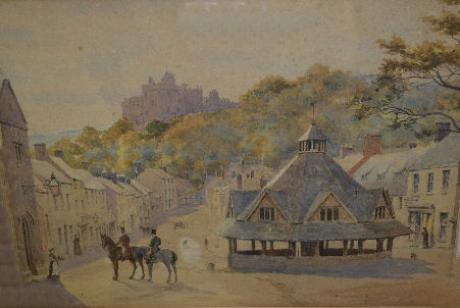 Attributed to Ernest Arthur Rowe, 1863 - 1922
The Yarn Market, Dunster, Somerset
The Yarn Market, Dunster, Somerset
Signed/Inscribed:
signed with initials
pencil and watercolour
45.72 x 55.88 cm. (18 x 22 in.)
Notes
The Yarn Market in Dunster, Somerset, England was built around 1590 and has been designated as a Grade I listed building and scheduled ancient monument.The octagonal structure has a central stone pier which supports a heavy timber framework which carries a slate roof with central wooden lantern surmounted by a weather vane. Dunster had become a centre for woollen and clothing production by the 13th century, with the market dating back to at least 1222, and a particular kind of kersey or broadcloth became known as 'Dunsters'. Around 1590 George Luttrell, of the Luttrell family constructed the market to shelter traders and their wares from the rain.One of the roof beams has a hole in it, a result of cannon fire in the Civil War, when Dunster Castle was a besieged Royalist stronghold for five months under the command of Colonel Wyndham. Following the damage, it was restored in 1647 to its present condition.It is in the guardianship of English Heritage but is managed by the National Trust. 
Artist biography
The artist was born 21st August 1862 at Stratford West Ham The youngest of five he had a brother George and three sisters Florence, Annie and Bella. He started work at sixteen as an Apprentice Lithographer from October 1878 to 1883. He was dismissed from his first job as a Lithographer in February 1884 and started his training as an artist at the Royal Institute of Painters in 1884 winning the Presidents Medal for Landscapes in 1885. At the age of 23 he started to paint professionally. For the next 10 years he had a hand to mouth existence earning approximately £100 per year while attending the Lambeth School of Art in the evenings. He was helped financially by his Mother and Brother George and was always selling his paintings to friends and family. In the 1890's he became interested in garden painting which proved more successful and in 1895 he sold a single painting for £68. In 1895 he spent some time in a Sanatorium in Davos, Switzerland and there he met his Wife to be Nurse Sophy Slater - the daughter of a Baptist Minister from Stow-on-the Wold in Gloucestershire. By 1899 his fortune had improved enough to persuade the Rev. Slater that he could support his daughter so on 6th October 1899 he married Sophy at the Baptist Chapel at Bourton-on-the-Water. He became extremely successful. In the summers he travelled all over the British Isles painting most of the famous gardens. In the winter he painted some of the beautiful gardens and Villas in Italy, Sicily, Spain and France. During his best years his paintings were exhibited in Liverpool, Manchester, Birmingham and London including 26 at the Royal Academy - 24 at the Royal Society of British Artists and 22 at the Royal Institute of Painters. It is known that Queen Mary purchased at least fifteen of his paintings over several years. The present Queen exhibited four of his paintings at an exhibition "Royal Gardens of England" which was held at Sandringham in Norfolk in 1989. In 1907 all this good fortune enabled him to build his own house at Rusthall near. Tunbridge Wells which he named "Ravello" after his favourite place in Italy. He lived there until 1915 when the First World War put an end to his travelling abroad. It also took all the gardeners so many of the gardens became overgrown and people stopped buying paintings. In order to survive he had to sell his lovely house and he was back to hard times. His fortune picked up again in 1920 but this was short lived because he died of T.B on the 21st January 1922. A Memorial Exhibition was held in London in 1925. This was attended by Queen Mary. After this he was forgotten until the 1950's when it became fashionable once again for people to hang paintings on their walls and he was researched by Christopher Wood - the foremost authority on Victorian Artists.